Some good thoughts on Lent. I especially like his point on change of pace, but mostly because I'm a creature of habit.
CNN Belief Blog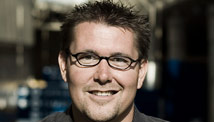 Editor's Note: Mark Batterson is lead pastor at the National Community Church in Washington, D.C. He is the author of "In a Pit with a Lion on a Snowy Day," "Wild Goose Chase" and "Primal: A Quest for the Lost Soul of Christianity."
By Mark Batterson, Special to CNN
When I was a seminary student, my wife and I went to downtown Chicago for a taping of "The Oprah Winfrey Show." When the producer came out to prep us for the show, I was embarrassed for him because he had dirt on his forehead. Didn't he look in the mirror that morning? Why didn't someone tell him? My embarrassment for him turned into embarrassment for myself when I discovered it was Ash Wednesday and the dirt on his forehead was actually ashes that symbolized the day of repentance that begins Lent.
I grew up going to a wide…
View original post 884 more words